Infection Prevention and Control
Infection control should be fully implemented in any healthcare setting. Hospitals, GP surgeries, dental practices and care homes should all have strategies to help prevent healthcare-associated infections.
Without infection control measures, pathogens and other hazardous microorganisms can spread, putting both patients and staff at risk.
Unlike other health and safety issues in the workplace, it is more difficult to identify potential infection hazards.
You can spot a trip hazard or know if a staff member may be exposed to a dangerous substance. But, pathogens like Clostridium difficile or Staphylococcus aureus cannot be seen by the naked eye. Staff in the healthcare sector can't 'spot' when germs have been released into an area, making it difficult to control and manage outbreaks.
Why is infection control important?
Germs can make people ill. It's that simple. That is why all healthcare settings must put patient safety first. Many patients admitted to hospitals, or care homes are more susceptible to infection. Safe practices must be put in place to help the prevention of infection outbreaks from occurring.
Management must ensure the correct procedures are in place and that all staff are trained. These procedures are determined by the type of setting. Veterinary clinics will have different infection control measures than a hospital.
But they all need to work hard to ensure all staff members, including contractors, understand how to work safely and contribute to the infection prevention measures in place.
How do settings implement infection prevention and control?
There are many ways a healthcare setting can help prevent and control infection outbreaks.
Patient Assessment
On admittance, patients should be assessed for infection risk. Throughout their stay, they should also be monitored continuously. The results of these assessments will determine how patients are treated.
Hand Hygiene
Hand washing is a vital part of any infection prevention and control strategy. Throughout the pandemic, the importance of washing hands has been stressed time and time again.
This is because the hands are the most likely to come into close contact with infected surfaces and equipment.
Hands can be exposed to an unseen pathogen and then accidentally spread that pathogen to equipment, surfaces or patients. The washing of hands and using hand sanitiser decontaminates them, helping the prevention of infections from spreading.
Environmental Cleaning
Ensuring surgical theatres, meeting rooms, kitchens, or any area of the setting is cleaned correctly is vital if infection is to be kept under control. Surfaces, chair, door handles, and bed rails also need to be cleaned, disinfected and sterilised. Without this thorough cleaning process, dangerous pathogens can spread and cause infections.
Disposal of Waste
All healthcare providers need to dispose of waste safely. Most waste such as gloves, aprons, swabs, dressings and sharps will need to be separated and segregated. The department of health has published a national colour-coded healthcare waste segregation system that will help you comply with current infection control regulations.
Management of Blood and Body Fluids
Blood and bodily fluids can harbour dangerous microorganisms like C difficile, so they must be disposed of correctly. Any items that have had contact with the waste should be cleaned properly. This includes items like reusable bedpans and urine bottles.
Washer disinfectors can be used as part of a settings infection prevention strategy because staff know that items will be cleaned, disinfected and sterilised properly.
By following this best practice and investing in an automated washer disinfector, you stop the spread of infections.
All settings must also have a dedicated blood / bodily fluid spillage kit on site. Any spillages must be decontaminated straight away.
Safety of Staff
Known as occupational exposure, healthcare workers can find themselves at risk from infections when they come into contact with a potentially harmful agent while they are working. Management must ensure their staff are safe by fully training them to understand the infection prevention and control procedures.
Extra Challenge
Most infection prevention and control strategies can be regulated and planned for. However, there is still a risk that a setting can experience an outbreak. Places, such as a hospital, cannot manage their visitors and patients who can introduce dangerous microorganisms and pathogens.
These settings must work hard to provide visitors with the correct information explaining how they can minimise the spread of infections.
The public is more aware of infection prevention these days because of the pandemic. This may help visitors take more care in the future. The Royal College of Nursing states, 'understanding how infections occur and how different microorganisms act and spread is crucial to their prevention in all settings, not just health and social care.'
Make your Infection Control Strategy a Priority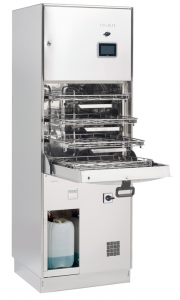 Ensuring the safety of all patients, visitors, and staff is a top priority. However, as the list above shows, there is a lot involved in preventing infections from spreading. That is why you should work with a company like Dekomed.
With over 30 years of experience, we understand exactly what you need to ensure you are cleaning, disinfecting and sterilising equipment and instruments properly.
We provide automated washer disinfectors, bedpan cleaners and dryers so that you can rest assured knowing your reusable items are safe and ready to use with the next patient.
To find out more about how we can help your infection prevention and control strategy easier to manage, please get in touch.
We will be happy to talk you through our products and advise on the best way forward for your workplace.
Tel: +44 (0)161 483 7333